Where to get married in Sorrento
Three tips to organize a dream wedding…
You have the ring, there is the promise of eternal love and you have chosen the place to celebrate your love: getting married in Sorrento has always been your wish since you came over on holiday and kissed by the sea, with Capri and the Vesuvious on the background, framing a moment you will cherish for ever.
Where to get married in Sorrento?
Back home with family and friends you have sat down and discussed what kind of marriage you wish and which could be the best location for your marriage in Sorrento.
We have three suggestions for you, unique and memorable, exactly how your wedding is meant to be. Tell us what kind of couple you are and we will tell you where to marry in Sorrento…😊
Romantic wedding in Sorrento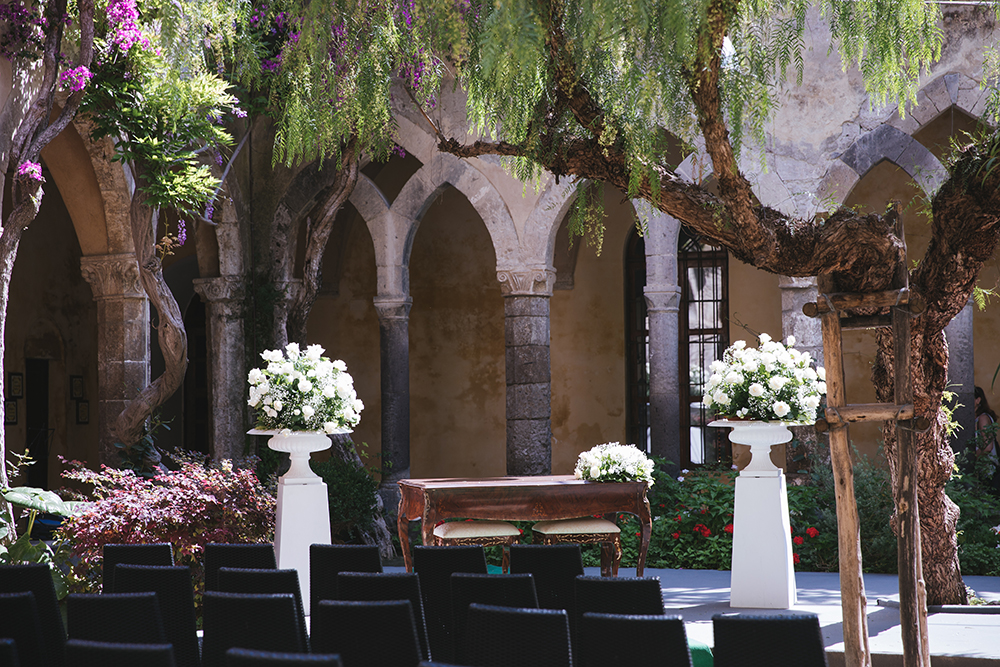 The answer can only be the Sorrento Cloister of Saint Francis. Its arcade covered with climbing plants, the silence and the tree planted in the centre, make it the most romantic location for a wedding in Sorrento. Once the wedding is celebrated you can walk hand in hand as husband and wife to the nearby Terrazza delle Sirene, which is the venue we highly recommend for reception.
Wedding with a spectacular view in Sorrento
You have always immagined that your wedding photos would have a fantastic background, therefore the location for you is Villa Fondi in Piano di Sorrento, just a few minutes from Sorrento. The view here is incredible, the ceremony is celebrated on the terrace of the villa, behind you there is only the blue sea and embrace of the Bay of Naples. We will, of course, take care of your movements…
Wedding at the Correale Museum
This is a ceremony that will really make a difference: the Correale Museum in the hart of Sorrento is a location for real connoisseurs. You can tell everyone: "we got married in a museum, what about you?" The elegant mirrors room inside the museum, is the most popular: your photos on instagram will really make a difference!
So, which kind of wedding are you? 😉