Where to get married on Amalfi Coast
After our tips on where to organize a marriage in Sorrento, we certainly could not miss out on doing the same with the stunning Amalfi Coast.
There is a reason why the Amalfi Coast is known as the Divine: it's a wonder that reflects itself in the sea that brightens up with the colorful houses of Positano, Amalfi and all the many small villages which frame the coast. All this beauty made you fall in love once, when you came over on holiday, so we would well immagine that organizing your wedding here would make your dream come true.
Here is some advice for you and a secret.
Catholic Wedding on the Amalfi Coast
Getting married in Positano Church
If you have always dreamt of entering the ancient church with your smart suite or look at your future wife in the eyes down the aisle of a church in the Amalfi Coast, we have two "proposals" for a romantic wedding: the church of Santa Maria dell'Assunta in Positano, surrounded by the typical coloured little houses. The typical southern Italy cosy small square outside the church makes it the perfect setting for a perfect photo session of your italian style wedding.
Getting married in the Church of Amalfi
The Cathedral of Saint Andrew is one of the finest workes of art of the Amalfi coast, with its stately staircase – just immagine the fantastic picks you can take – its portico and bell tower. Getting married at the Amalfi Cathedral is a unique experience: you are in the centre of one of the most picturesque of the Divine Coast, with the coming and going of many people that will admire you on your special day. The inside of the cathedral is of stunning beauty: a long marble aisle will conduce you to the altar. Every step towards your loved one will be memorable…
REMEMBER: Catholic weddings in Italy have very strict rules, but no worries we are experts in this, guiding and giving you advice here
Civil wedding in Positano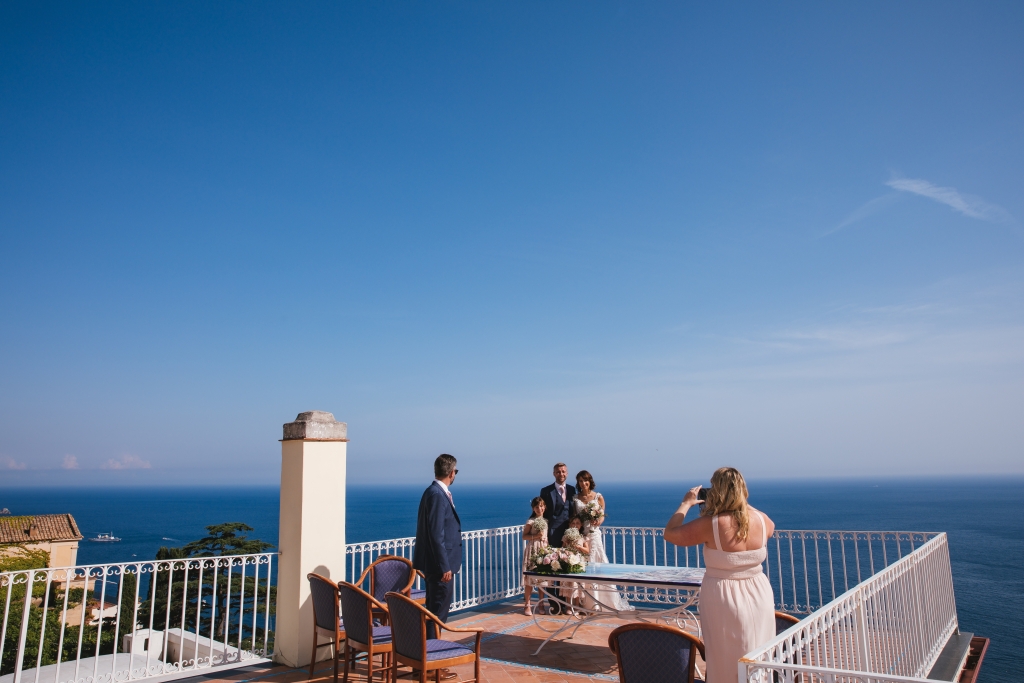 The Positano Council is a beautiful location, you would not believe its a council house… a terrace overlooking the sea, cosy and intimate is the ideal place to share your love vows with the one you love and then walk, hand in hand through the alleys of Positano.
Do you want to know a secret? It is also possible to celebrate your wedding in Ravello in the fantastic Villa Cimbrone… you just need to contact us and we will help you make your wish come true!